The 16 Beauty Tricks to Make Your Prom Pics the Best Ever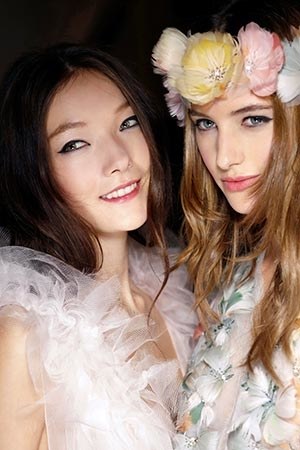 Down the road, chances are you won't remember who you sat in Bio class Freshman year or the name of your boss at your weekend job at Starbucks. Truthfully, there are probably only a handful of experiences in high school that you'll really remember for the rest of your life—and prom will certainly be one of them.
You spent months picking out your dress for the magical evening, plus scoured Pinterest (and the pages of TeenVogue !) for the perfect hair and makeup look. So it only makes sense that you want all your hard work to translate gorgeously into photos that will forever be immortalized on Facebook—and your mom's mantel.
But, this doesn't mean you have to spend the entire limo ride on the way back from prom adding Valencia filters to all of your pics or un-tagging snaps your friends posted of your "bad side." We turned to the pros to put together a guide of all their genius tips and tricks to help you look your best in each and every shot.
From flash-defying makeup ideas to advice on perfecting the most flattering pose, here's everything you need to know to make every photo Instagram-worthy—#nofilter necessary!
1. Prep your skin in advance.
"You'll want to start a proper skincare regimen at least a few weeks in advance," says celebrity makeup artist Kristofer Buckle. "Concentrate on your face, but also address other areas like your back if you have body acne issues and want to wear a backless dress, or your arms if you have eczema. When you're testing out new skin care products, you want to give yourself enough time before the big day in case your skin has a negative reaction."
2. Don't forget to eoliate.
"Eoliate regularly with a gentle scrub like Neutrogena Deep Clean to not only help your skin seal in your moisturizer, but to also create a smooth canvas for your makeup so it shows up flawlessly in photos. If your dress displays your arms, back, or legs, try a DIY allover body scrub with olive oil and chunky sea salt to enhance your skin's natural glow," says Buckle.
3. Remember: Practice makes perfect.
"You don't want to experiment with any new colors, formulas or products on the day of prom," advises Buckle. "Test drive your look beforehand with your girlfriends and get their honest opinions. Take photos—with flash and without—and see how you look in natural light since that's where many of your prom pictures will be taken," he says. Many department stores will offer free, professional makeup consultations and let you take home samples to play with at home.
4. Think about skipping the SPF.
Normally, we'd never advise to skimp on sunscreen, but we'll make one single exception for prom. "The ingredients in SPF can be reflective with the camera's flash and make your face look white or extra shiny photographs. Choose a lightweight foundation with low or no SPF like Armani Luminous Silk," says celebrity makeup artist and Simple ambassador Gita Bass.
5. Set your base.
"A great primer on lids, face, and lips smoothes out your skin's texture and prevents your makeup from melting off in the heat," says celebrity makeup artist Mai Quynh. Nobody wants eyeliner dripping down her cheek. We love Stila Aqua Glow Perfecting Primer for its cooling properties, which feel amazing in the summer heat!
6. Don't forget your neck.
If you're wearing a dress that exposes your neck—and there's a good chance you are—Buckle advises you to choose a foundation that's the same color as your chest and blend everything from your neck, downward to make sure it all matches. "The flash on a camera tends to make your neck more pale than it is in reality, so you want to avoid a stark contrast in photos," he says.
7. Go easy on the contouring.
"Although you might feel more confident when your face is chiseled with makeup, phone cameras pick up the yellows and oranges in contouring palettes in an unflattering way," says celebrity makeup artist Molly R. Stern. "As an alternative, try using a darker color foundation as your contour. It's easier to blend than powders and you have more control over how you want to build up the color." Stern's handy contouring technique is to occasionally stand back from your reflection to really see what the shading is doing to your face. "If you're too close to your mirror it's hard to have perspective."
8. Keep it simple.
"You want your makeup to make you look like the best version of your every day self—not someone completely different," says Buckle. "If you normally wear colorful eyeshadows and lipsticks, prom is the perfect opportunity to experiment with an interesting color, like a fuchsia lip. But if you're more of a no-makeup, makeup girl, try a sheer, neutral palette of pinks and soft golds, then build from there." The goal is to be recognizable when looking back on your prom pics years from now.
9. Think glow, not glitter.
"Avoid overly shimmery and glittery products, especially in the T-zone area, as they will reflect the camera's flash in a garish way," says Quynh. "Instead, swipe and blend a stick highlighter down the center of your nose, cheekbones, collarbone, and jaw line for a subtler take," says Buckle. Try the cult-favorite NARS The Multiple as your tool of choice.
10. Obliterate shine.
"Set your makeup with a translucent powder that not only extends the life of your makeup look, but controls excess oil that the camera picks up in photos," says Buckle." Laura Mercier Invisible Pressed Setting Powder is universally flattering and doesn't dry out your skin."
11. Play up your hairstyle.
Slight tweaks to your dream prom hair look can make a big difference. "If you're doing a bun, consider a topknot that you'll really be able to see in photos, as opposed to one that sits lower on your head. Or, try a low side chignon and angle your face in photos to put it on display," says celebrity hairstylist Ryan Richman. "If you're going for a ponytail, think about adding extensions so you have the option of pulling it over the shoulder in photos so people can see it. Beachy waves can look even more amazing in pictures if you gently shake the roots with your fingers to give it a little lift right before the camera snaps," he suggests. Whatever hairstyle you choose, try hair color-matching bobby pins so bobbies that have gone rogue don't stick out like sore thumb in photos.
12. Consider the lighting.
"Find a shaded area such as a pretty tree to set up the shot. If you try to pose in the bright sun, you will be squinting and the light may create uneven shadows across your face," says Jessa Schifilliti of Love & Light Photographs.
13. Find a flattering pose.
"Stand with one hip slightly closer to the camera," says Schifilliti. "Then roll your shoulders back so your posture improves and elongates your spine. Shift your weight onto the leg that is farthest from the camera so that your body starts to produce a little S-curve, which has a slimming effect." Sounds uncomfortable, but it helps you to at least look relad. "If you're wearing a long gown, use it to your advantage! Instead of the standard hand-on-hip move, which looks great for your arms but feels a little too posey, gather your dress and hold it up slightly so that your elbow is slightly bent for a chic, natural stance. Plus, everyone will get a peek at your cute shoes!" Also, consider linking arms with your date versus the go-to hug-from-the-back pose.
14. Nail your smile.
"Whitening strips work really well and are great to use for a few days leading up to the prom," says Bass. We like Crest 3D White Lu Whitestrips. "Also, lipsticks in blue-based reds and pinks help to make teeth look whiter and brighter." It's easy for smiles to feel forced after an hour of snapping photos. To make it feel more natural, "look down at the ground before the shot is taken and pop your eyes up towards the lens— then smile!" says Schifilliti. "This will ensure that your chin is down, your eyes are wide, and your smile is genuine."
15. Prep your photographer (AKA mom and dad).
"Make sure your photographer is shooting slightly above eye level to get your best angle," says Schifilliti. Once you've checked off your standard group shots, feel free to mix the photographs up a little. "Some of your favorites photos will be the ones that don't look too posed. Ask the person snapping away to take some candid photos of you in your natural and carefree state." Pictures of you laughing with your date as you pin on his boutonniere or hanging out with your girlfriends are great options—and are super scrapbook or Instagram like-worthy shots.
16. Stock your beauty emergency kit.
"NYX Blotting Papers fit inside even the tiniest of clutches, and will help control excess oil without piling on a new layer of makeup throughout the night," says Stern. "Keep your lip color handy, too, since you'll be eating and exchanging cheek kisses with friends," says Buckle.
You're now equipped with everything you need to know about making your prom pics memorable. Remember: Though prom night is just for a few hours, the pictures you take will last a lifetime.