Popular Prom Themes
Prom is a night to remember, and the prom themes that accompany this night will stand out in your mind for years to come. If you are on the prom committee, choosing the prom theme is your first big task. You want everything from invitations to decorations to match your class's vision and make all the attendees feel truly special.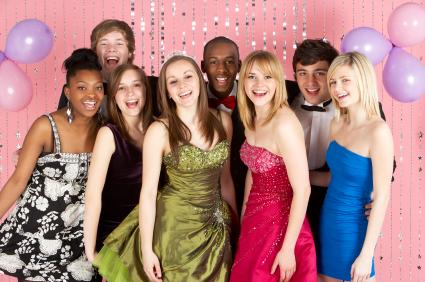 Classic Themes
These popular prom themes are perennial favorites and are often easy to arrange. They may be more generic than specialized themes, but they can easily be customized for a specific school.
Fairy Tales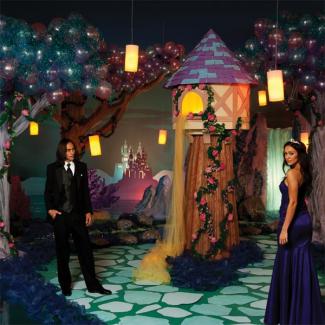 Live happily ever after a fairy tale theme where each couple picks their favorite story and dresses the part.
The decorations should look like they come right out of a storybook and include castle walls, climbing vines, and maybe even a carriage backdrop.
Include lots of shimmery pinks, purples, and forest greens into your decor to give the impression of a fairy tale-like forest.
The menu is flexible, though you can have fun naming the dishes like Far Away Steak and Shrek Fries.
For those who want to go as a group, encourage costumes like the seven dwarves and three little pigs.
Anderson's Today was a Fairytale theme contains all you need for turning your prom into a fairy tale, including balloon trees, enchanted lanterns and a lighted castle.
Famous Couples
This theme allows each couple creativity in both who they represent and their costumes. Romeo and Juliet wear Shakespearean outfits, while Sonny and Cher take a more retro approach.
Decorations can focus on general romance, including red roses, hearts and soft lighting.
Try doing a "pairing" of two main dishes that go together like pasta and chicken or steak and seafood.
After the prom king and queen are announced, have another contest for best famous couple. Toynk's couple's costumes may give students ideas for who to dress up as when they attend prom.
Red Carpet
Celebrity and Hollywood themes make students into stars for an evening of glitz. In addition to the having students walk in on a red carpet, surround students with elements of Hollywood glitz and glamour.
Include spotlights, velvet ropes and 'paparazzi,' to give it more of a Hollywood feel.
Serve a selection of fancy appetizers, such as shrimp cocktail and non-alcoholic cocktails or sparkling champagne.
Students can wear sunglasses like many of the stars, and dress in red carpet worthy dresses and tuxedos.
PromNite's Rock the Red Carpet theme comes with the red carpet, velvet ropes and all you need to help students feel like celebrities for the night.
Starry Night
The classic romance of a celestial theme is a perennial prom favorite. Bring in a touch of Van Gogh's famous painting of the same name with Stumps' Starry Night Theme Kit or use some these ideas: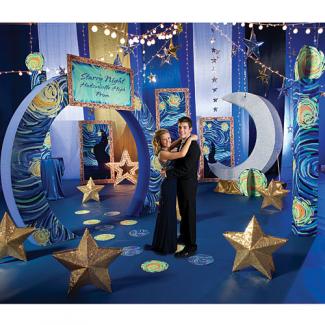 Decorate the room with black or navy blue tablecloths, drapes and low lights to keep it dark. Add strings of white lights around the room to represent stars.
Accent with glow-in-the-dark stars, planetary bodies, and anything glittery can bring the galaxy to the prom that night.
Serve foods related to stars and planets, such as mini sandwiches in the shape of stars or cheese from the moon.
Romantic Themes
As a formal event geared for couples, prom night is inherently romantic; therefore themes dedicated to lovers are always a popular choice.
Shakespearean Romance
Use one of the most classic love stories, Romeo and Juliet, as the inspiration for your prom.
Recreate the ball in Romeo and Juliet by providing masks for those attending the prom.
Serve classic dishes from the Renaissance such as beef roast, meat pies, salads, olives and cheeses.
Include a balcony for couples to pose on or for recreating the iconic balcony scene from the play.
Decorate with deep reds, purples and gold and heavy velvet fabrics.
Parisian Romance
The City of Love is always popular for romantic prom themes. In addition to an Eiffel Tower model, you can bring other elements of French culture to your prom.
Serve traditional French foods, including banquettes, cheese, fresh crepes and light pastries
Play up the city of lights aspect by accenting with different types of lanterns, strands of white lights and streetlights.
Set up other French-inspired scenes, such as park benches and fountains, found in kits such as Anderson's Paris by Moonlight Theme or created by your school's drama department.
Classic Romance
Because prom is a formal event and many couples attend, romantic themes are always popular. Titles such as "A Night to Remember," "From This Moment," and "Forever Tonight" are common.
Decorate with lots of deep red and gold accents, including tablecloths, curtains and chairs. Add soft lights, hearts as well.
Include red roses on every table and have attendees eat by candlelight.
Offer romantic foods such as chocolate, grapes and oysters or dishes with romantic names.
Quirky Themes
More fun, outrageous themes can be exciting prom options. They generally use brighter colors and elaborate decorations.
Casino Royale
Casino night themes are exciting because they offer entertainment other than dancing.
Decorate with traditional red, black and white decor and cardboard cutouts of playing cards, such as the decorations found at Oriental Trading.
Include classic casino games such as blackjack or roulette.
Give students a set amount of chips to play with when they enter the door.
Mardi Gras
A livelier prom theme that is especially popular is Mardi Gras
Students wear outrageous masks and glittering beads.
Decorate with the traditional purple, green and gold.
Serve New Orleans favorites such as gumbo, po' boys and other foods with a Creole or Cajun touch.
From masks to beads and cardboard cutouts of jokers and dragons, Shindigz Mardi Gras supplies and decorations will help students feel like they've stepped onto the streets of New Orleans.
Color Themes
A simple color scheme can be elegant and sophisticated, as well as easy to decorate. A Black and Bling Ball, or school color theme is always appropriate, but be sure to choose neutral colors that will work well for both genders - guys may be reluctant, for example, to attend a Pretty in Pink prom.
Encourage guests to dress in the color of the theme. For guys, this could include a traditional tux with a vest or tie in the color.
Decorate using different shades of the theme or use lights to cast a glow in that color over white decorations.
Dye foods to fit the given theme.
Geographic Themes
Prom is the perfect opportunity to escape the school for a night, and prom themes ideas that use exotic geography are unique choices. While Paris, New York City, and Venice are popular for romantic themes, more unusual choices could include Egypt, Shanghai, Las Vegas, a tropical island, London, or Africa.
Vegas
Does your student body love to gamble? Set up a casino along the walls of your school gym. Keep the middle as a dance floor.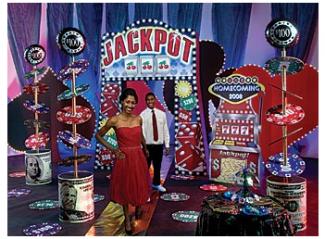 Since Vegas is known for its glitz, you can stick with a traditional formal prom dress code.
For entertainment, find an Elvis impersonator or a glitzy magician. Some students may want to recreate an act from the Vegas strip.
Have fun with the menu. Vegas is known for its all-you-can-eat buffets, but you may also want to bring in fancy appetizers and desserts dusted with edible gold leaf.
Tropical Paradise
Many different tropical themes can be used to inject festive fun into a prom, including a luau,jungle, or specific destination theme such as Jamaica or Hawaii.
Bright blooms and floral leis should fill the room.
Bring the beach indoors by adding sand and bringing in beach chairs for guests to lounge in.
Serve colorful punch and food items containing ingredients such as coconut, pineapple and mango.
Taste of Italy
Italy is known for classic architecture, gondolas and good food, all of which can add to your prom's atmosphere.
Decorate with Roman columns, ivy and Italian artwork.
Serve Italian foods such as pasta, cheeses and grapes.
Set up a fake gondola for photo ops or a romantic bridge over an Italian canal.
Retro Themes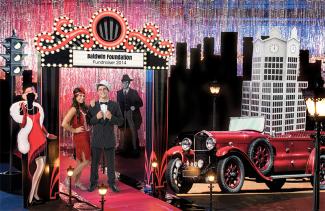 A retro or vintage theme can be fun and nostalgic not only for the students, but also for the teachers who have seen many proms come and go. Popular decades for retro prom themes include the 1950s, 1970s, 1980s, and 1990s. Using retro-themed decorations and top 40 hits from the era can add even more realism to the event. Pick any decade that sounds fun! If you chose the 1950s, you can do a Sock Hop theme. The 1970s make for a great disco. If you do the 1980s, hire some break dancers to show you how it's done.
Make sure the DJ has a good selection of music from that decade. Though he can play a mix of modern songs, at least half the songs should represent that era.
Research each decade online to decide which one your student body will have the most fun dressing up for. Don't forget to look at hairstyles and jewelry as well as clothing styles.
See what foods were popular. For example, if you do the '50s, offer milk shakes and hamburgers.
Personalizing Your Prom Theme
While popular prom themes may be easy to choose and coordinate, they should also be personalized to ensure that each prom is unique and memorable. These tips can help prom organizers turn a popular theme into a specialized one that will form treasured memories for every guest.
Check at least the past five years of yearbooks to ensure the theme has not been recently duplicated. Prom won't seem as special if an older sibling had the same theme for their prom.
Be thorough with decorations, including wall décor, table centerpieces, photo backdrops, and other items, but do not go overboard with crazy patterns or repeated imagery. Use coordinating solid colors to keep with the theme in a subtle and easy way.
Make the theme as unique as possible to the class it honors (typically the junior or senior class). Use students' names in décor, post pictures from the year's events, and choose favors with the class year.
Begin planning the theme early to have the greatest selection and options to turn a popular theme into a unique one.
Choosing a Prom Theme
When choosing a prom theme, the planning committee, class officers, and other individuals have to consider several factors to ensure the theme is appropriate and attainable. Ask the following questions to help choose an appropriate theme.
Does the prom location have enough space for the dancing, seating, decorations, photo areas, and other necessary accents?
Are there restrictions on how prom decorations can be arranged, such as hanging items from the ceiling or walls?
Is the budget for the dance big enough for an elaborate theme, or where can costs be trimmed to make it more affordable?
An elaborate theme may be a great idea, but can decorations be made, purchased, or borrowed to create the right effect?
How much effort will be needed to make the theme a reality? Can enough volunteers be gathered to decorate before the prom and clean up afterwards?
If the theme involves unique lighting, are there enough power outlets to support the decorations as well as the musical equipment and other necessities?
Is the theme suitable for the majority of students so everyone will feel welcome?
Take a Vote to Decide
Making the final decision on a theme can be challenging. When you find the prom themes your committee likes best, take a moment to brainstorm invitations, dress code, decorations, music, and menu to see which one you want to create into your magical prom night. If you like more than one, let the student body vote and take ownership in their magical night.